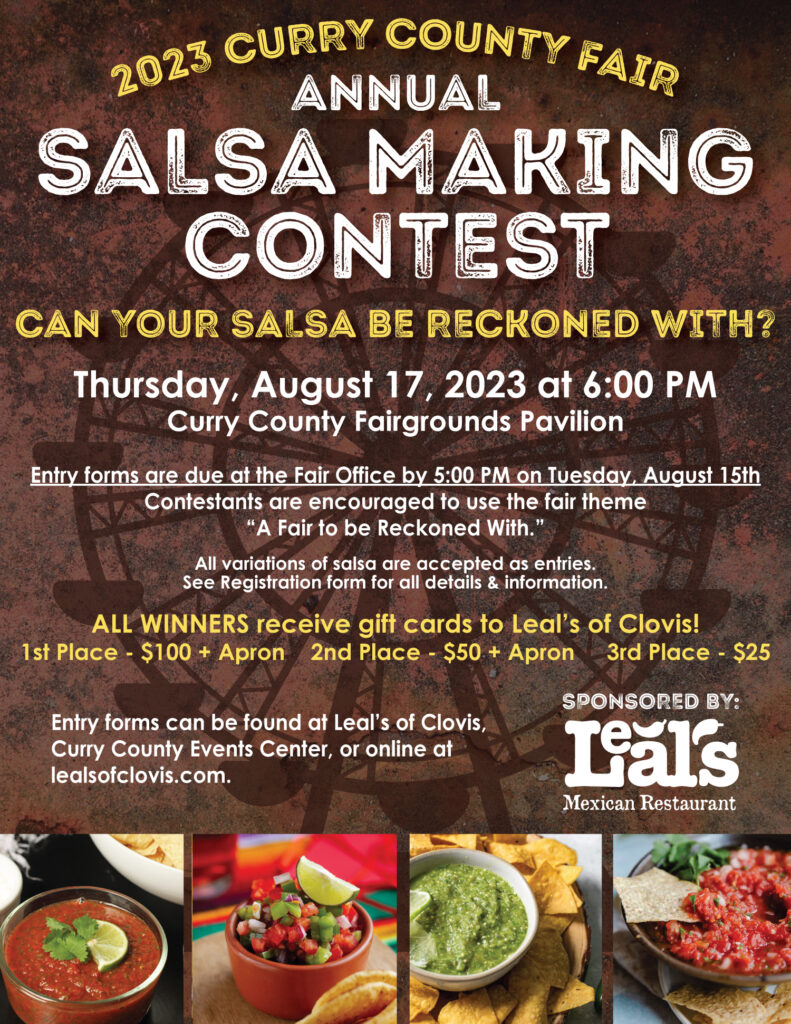 ---
Salsa Contest Rules:
You must provide a one-quart jar of favorite salsa recipe made and ready to sample. All variations are acceptable (pico de gallo, chile verde, traditional, fruit salsa, etc.)
Any Curry County resident is eligible to enter.
Entry forms must be turned in by 5 pm on Tuesday, August 15th at the fair office.
All participants must be present during judging.
Set up begins at 5 pm with judging beginning at 6 pm on Thursday, August 17, 2023.
Entries MUST BE made by the participant. Your recipe must be original with no use of commercially prepared salsa.
Any judges questions must be answered by participants.
Decisions of the judges are final.
Chips and other garnishments are allowed for presentation purposes. Chips for judging will be provided by Leal's of Clovis.
Salsa will be judges on appearance, taste and texture.
Appearance scores will be judges on the attractiveness of the presentation.
Entrants are encouraged to incorporate the fair theme: A Fair to be Reckoned with.
You can print the registration form by clicking the link below, or pick one up at Leal's of Clovis at 2115 N. Prince St. If you have any questions, please contact the Curry County Events Center at (575) 935-7000.
We look forward to your delicious salsa!
---
IMPORTANT: Registrants MUST turn in their PRINTED registration form in person to the Fair Office at the Curry County Events Center. No registration forms will be taken by Leal's. They must be taken to the Fair Office to be registered properly.